How to Have the Wildest Phone Sex Of Your Life
In terms of sexy trends, phone sex has stood the test of time. Next to watching porn, phone sex lines surpass chat lines, strip clubs, and sex work in terms of fiscal contributions to the economy. Why? It might have to do with the fact that the digital age has only increased the use of a phone, but it might also be because phone sex is a safe way to ride a risqué roller coaster within the sex industry. It's just enough human contact to make it feel more legitimate than porn (and arguably more arousing), but there is no physical touching (except unto yourself) which means that it's a disease-free and safe operation.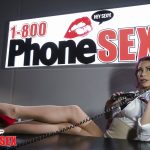 Despite being totally safe, some people still hesitate to call in. They want to, but the very idea of talking dirty to another person over the phone makes them blush. We don't think that your shyness should stop you from enjoying one of life's great pleasures. Exploring your deepest fantasies with someone who has made a career of accepting those fantasies should be something that you allow of yourself! If you're still hesitant, don't worry. We can hold your hand through this! Metaphorically, of course. You're going to need your hands. We've created a step-by-step guide phone sex guide for you, so that you too can hop aboard this pleasure cruise.
Prepare
When it comes to masturbation, there are some people who like to use tools, lube, socks, or tissues. If you are one of those people that likes to involve any item, you'll want to get those materials handy. You'll also want to make yourself comfortable on a bed or a couch and plan to call into the phone sex line during a time in which you know you won't be interrupted by a roommate or family member. Part of the hesitation to call in has a lot to do with the fear of being caught or heard. So, be strategic about your first call so that you can focus on the fantasy and the fantasy only! Also, you'll likely need to have your credit card handy.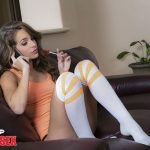 Get comfortable with the operator
If you aren't ready to dive into the dirty stuff, you should try some small talk with the operator first. It might sound silly, but the operator will be able to take the cue and will absolutely entertain your small talk. Think of it as a way to warm up to the person on the other end of the line, and remember that the operator has heard it all. They've received calls in which customers get right into it, and others in which they almost don't get into the dirty talk at all. The operator is a professional and will follow the vibe and precedent that you set. Also, don't be afraid to voice your fears. You can let the operator know that you're new to this type of thing. He/she will know how to help.
Explore your imagination
Phone sex is all about the fantasy, the unknown, and your imagination. Start by setting an imaginary scene for the operator. What is your fantasy? It can be as simple has having anal sex and as complicated as macrophelia (Google that one! It's a really interesting kink). Regardless of what your fantasy is, try to imagine where and how that fantasy would take place. Then, describe what you are imagining to the operator. You can think of it like a sexy bedtime story. The more detail you get into, the sexier and hotter you will feel. There is something about verbalizing a fantasy in detail that is incredibly sexy. You may surprise yourself with how deeply you turn yourself on with your own words! The operator knows how to take your imagination to the next level. You'll find that the operator knows just what to say or what noises to make to bring your fantasy to life.
It's all in the details!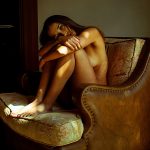 If you've ever read really good erotica, you'll notice that the turn-ons are in the details. If you haven't, it might be a good idea to do so before you call in as it'll get your head in the mindset of using dirty vocabulary! "Now, I'll have sex with you," is a lot less sexy than, "Now, I'll bend you over a kitchen chair, take my throbbing penis, and penetrate you hard and fast while you moan intensely." We're not going to pretend to be expert erotica writers here, but the latter phrase makes for a much hotter situation that an operator will be able to play off of. Get as specific as you can or want to so that the operator can flesh out your desires!
And the verbs!
A key component to having great phone sex is using a lot of actionable words. It makes the interaction seem more realistic and tangible when phrases like, "Twist them, shove it, hold it, lick it," are used throughout the fantasy. These actionable words will give the operator a chance to expand your fantasy, moan when necessary, and turn you on even more than you realized you could be turned on! If you like when those actionable words are said to you, express that to the operator so that he/she uses them more often!
Move around make noise
Phone sex is not a sit-still operation. To really get the most out of it, you'll want to squirm around, touch yourself, and pant. Make more noise than you normally would, as moaning and heavy breathing are things that drive a fantasy. Really try to imagine that what is being discussed is happening to you, how would you move if that were the case? What would it feel like? Imagination can take physical form with a little bit of help! If you don't believe us, try imagining what it would feel like right now to bite into a lemon. Did your jaw tense up as if you actually tasted something sour? It works in a very similar way when it comes to dirty talk. Getting physical with yourself and within your mind will make the experience more physically pleasurable.
Come with your operator
If this isn't your thing, then you can ignore this section. However, for many people, coming at the same time as their partner is a huge turn on. Express when you are about to have your orgasm so that the operator can match your pace. Get passionate with it and tell him/her, "I'm going to come, I'm going to come," so that the operator can reply to you and reach a climax at the same time as you. The orgasm you can reach while on the phone with an operator is different and exciting!